Welcome to the IIFC
INSTITUTE FOR INDIVIDUAL AND FAMILY COUNSELING
at the University of Miami,
School of Education & Human Development
ACCEPTING NEW CLIENTS / ACEPTANDO NUEVOS CLIENTES
The Institute for Individual and Family Counseling at the University of Miami is providing all counseling services via telehealth. We are accepting new clients immediately and there is no wait list.
For any questions, please contact our office line at 305-284-6949 and leave us a message.
En este momento estamos operando por medios de telesalud. Estamos aceptando nuevos clientes y no tenemos lista de espera. Para cualquier pregunta o mas informacion nos puede llamar al 305-284-6949.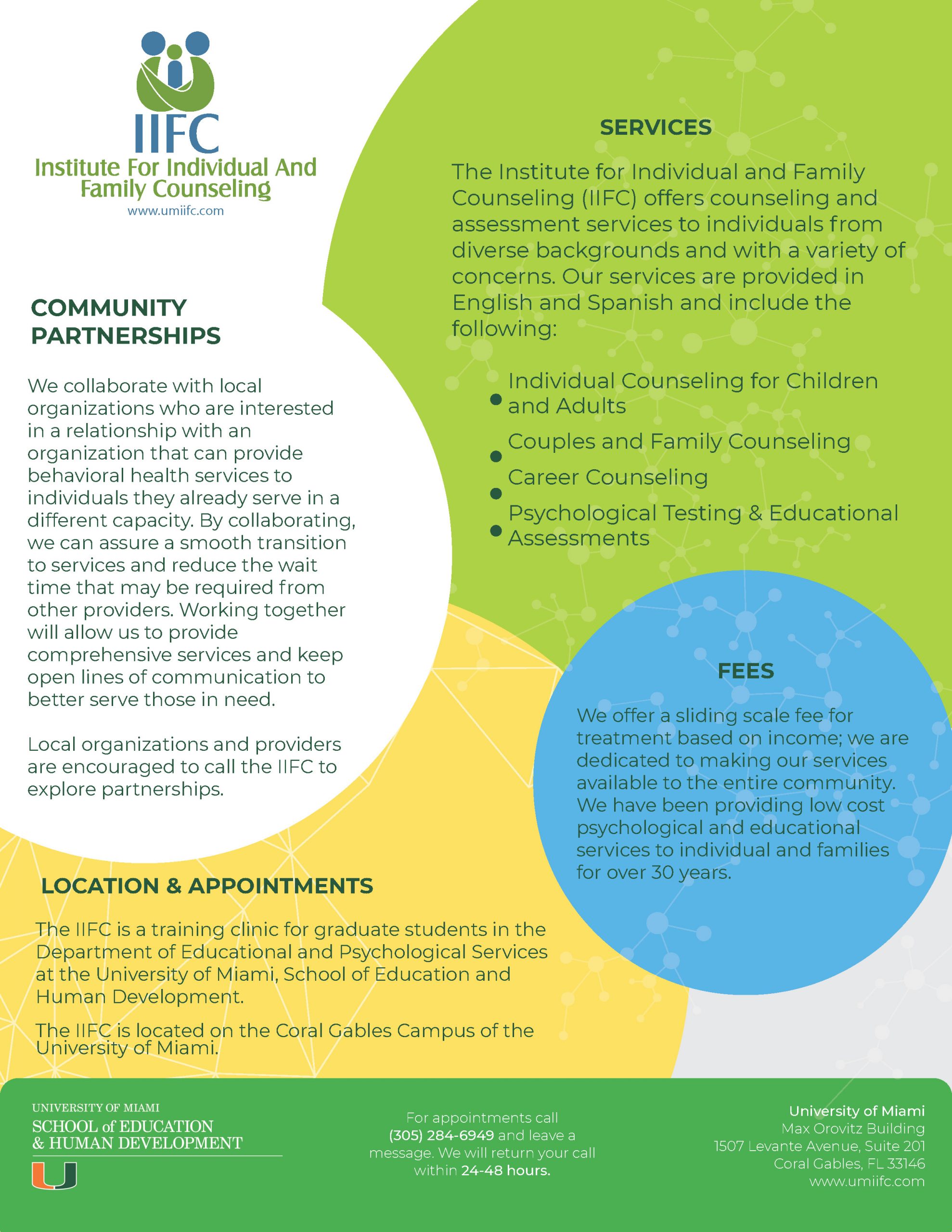 SPEAKERS FOR FALL 2018 AT THE IIFC
Aug. 28, 2018
5:00-7:00 pm
Clinic Procedures
Lissette Perez-Lima, Ph.D.
Sept. 11, 2018
5:00-7:00 pm
SBIRT Review
Maite Mena, Ph.D.
Sept. 25, 2018
5:00-7:00 pm
Working Therapeutically with Sexual Orientation Concerns
Dan Sheridan, Ph.D.
Oct. 9, 2018
5:00-7:00 pm
Mindfulness-A-Life Journey
Elizabeth McInerney
Oct. 23, 2018
5:00-7:00 pm
Self-Care when doing mental health work
Annie Khan, Psy.D.
Nov. 6, 2018
5:00-7:00 pm
Clinical Supervision
Stephanie Triarhos, Ph.D.