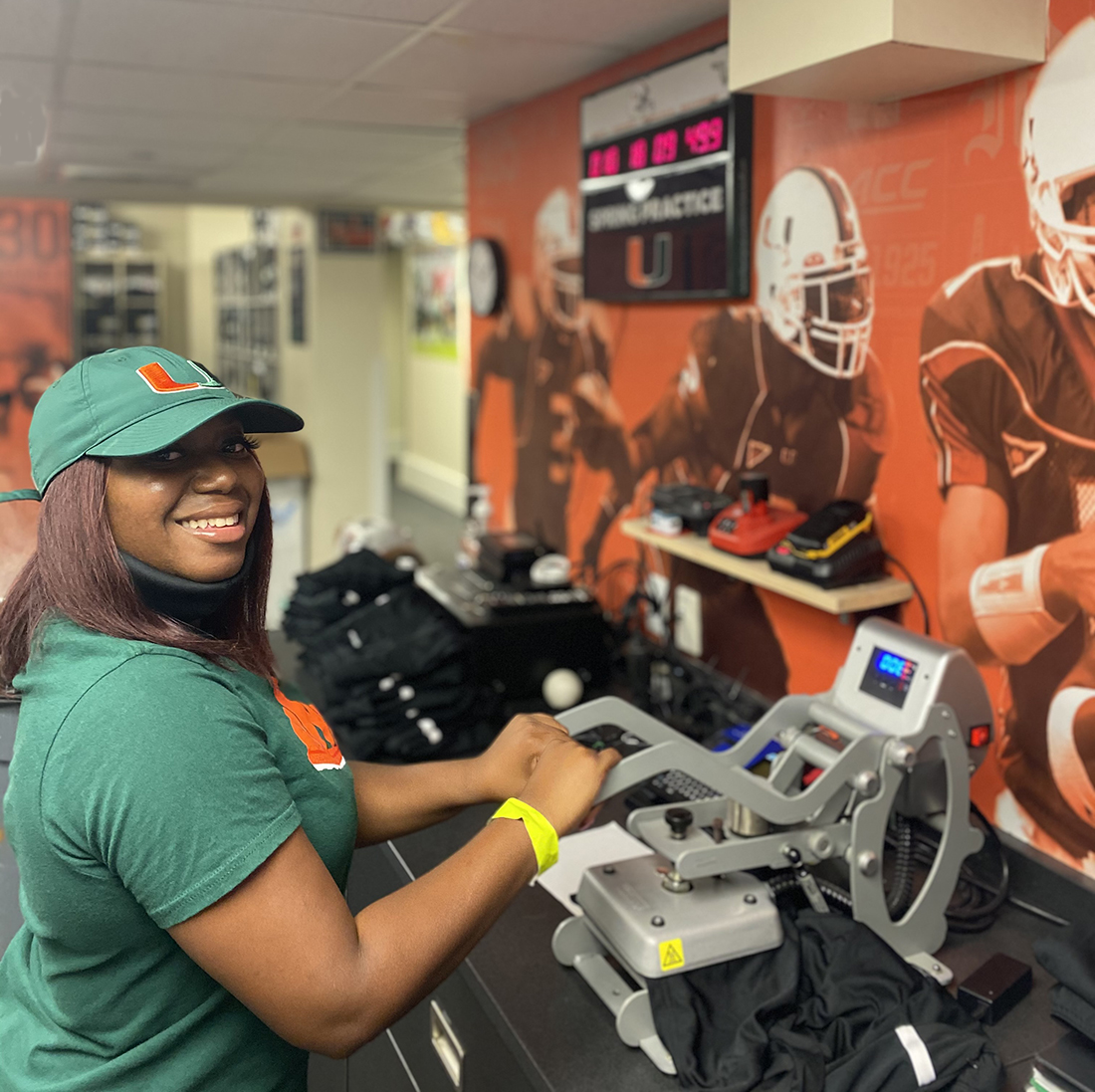 With her lifelong passion for sports, Vikaya Adue Powell was excited to be selected to participate in the "40 Under 40" panel at the NFL's fifth annual Women's Careers In Football Forum held virtually on February 24-25.
"As a Black woman, I brought my personal perspective to the forum," said Powell, who is student equipment manager for the Hurricane's football team, as well as a graduate student in the Sport Administration Program of the School of Education and Human Development (SEHD). "I believe professional football is opening the doors to more women. This year, Super Bowl had a woman as referee, and I think we will have a woman as head coach in the next five years."
As part of its ongoing commitment to diversity and inclusion, the NFL's Women's Careers in Football Forum has helped develop a more diverse talent pipeline and has connected 118 women with career opportunities in football over the past four years. Featured speakers in 2021 included NFL Commissioner Roger Goodell and Brian Flores, head coach, Miami Dolphins.
"Being chosen for the forum is a great accomplishment," said SEHD Dean Laura Kohn-Wood. "Your school if very proud of you."
An early love of sports
Growing up in Alexandria, Virginia, Powell fell in love with sports at an early age. "When I was young, my mother put me in cheerleading, basketball, and track, as well as dance," she said.
After high school, Powell enrolled at Winston-Salem State University, earning a bachelor's degree in sports management with a minor in business. She also completed an internship with the Winston-Salem Dash, a minor league farm team for the Chicago White Sox, in the ticket sales department.
While in college, Powell played "powder puff" football, and soon became equipment manager for the men's football team. "I love working behind the scenes and doing the dirty work," she added. "A lot of the great things that happen on the field are due to the hard work of the equipment managers and trainers. For example, some quarterbacks like managers to rub the ball in the dirt to rough it up. Others want you to put mud on the ball and let it dry before rubbing it off. It sounds like a little thing, but doing it the right way builds a player's confidence and performance."
Before pursuing her master's degree, Powell served as assistant football equipment manager at North Carolina A&T State University, where she participated in the 95th annual East-West Shrine Bowl in St. Petersburg as an equipment manager intern.
Powell also worked with the NFL's Carolina Panthers in the mobile ticketing and ticket sales department. "Ticket sales is an entry-level role for the sports industry," she said. "I enjoy talking to people, so I enjoyed the experience, and it broadened my career horizons."
Since Powell was living in Alexandria, she would fly to Charlotte to work during the team's home games. "Sometimes, you have to take risks and show the decision-makers how badly you want to be in sports," she said.
Return to school
When the COVID-19 pandemic struck last spring, Powell took advantage of the hiatus in professional sports to return to school. "I had always wanted to get my master's degree, and the University of Miami has one of the nation's best Sport Administration programs," she said. "I was so excited to be accepted."
Since enrolling in the 12-month program, Powell has enjoyed learning from her peers as well as the faculty and guest speakers. "It's always interesting to hear from other football equipment managers," she added.
Now, Powell is looking forward to putting her master's degree and football experience into a new career opportunity. "It takes hard work to succeed in football, but it does pay off. You just have to be patient and keep learning, as you build your professional skills and experience."