The Dunspaugh-Dalton Community & Educational Well-Being Research Center (CEW-RC) began operations within the School of Education and Human Development in January of 2009. Since its inception, administrative and operational functions of the CEW-RC have been supported by a gift from the Dunspaugh-Dalton Foundation and by the office of the Dean of the School.
Since July of 2015 our CEW-RC team has engaged eight new community agencies:
The CEW-RC seeks to be a Center of Excellence that is highly relevant to the lives, needs, and aspirations of local residents and students, and to the work of local, national, and international experts. Our center aims to highlight the very best interventions that research has to offer, and to facilitate their utilization in the community. We seek to be a resource to community and national partners through our Training, Research, and Service.
We strive to work with diverse and underserved populations, to support individuals who dedicate their lives to helping others, and to ensure that our work is always culturally informed and evidence based.
The CEW-RC seeks to promote the emotional, educational, and physical well-being of all children and families. The goals of the CEW-RC are to:

- Conduct high quality interdisciplinary research that advances knowledge
- Serve as the bridge between evidence based practices and community practice;
- Develop sustainable and mutually beneficial university-community research collaborations
- Promote the delivery of high quality services to diverse and underserved populations, and;
- Educate, train, and mentor students, professionals, and human service providers on state of the science research, prevention and treatment methods.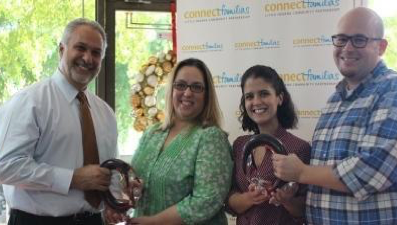 In December 2015 I was honored by being given an "Excellence in Partnership Award" by ConnectFamilias, one of the CEW-RC's newest community partners. I accepted this award in the name of our CEW-RC for its commitment to children and families in the community. This recognition is one of the many ways in which the CEW-RC has continued its visibility in and relevance to the Miami community.
In July 2015 I was granted the opportunity to take the role of Director of the Center following the exceptional work of its original Director, Dr. Etiony Aldarondo. In doing so I was able to integrate my existing work into the CEW-RC. This includes support from the Health Foundation of South Florida, the Substance Abuse and Mental Health Services Administration, and the National Institute on Drug Abuse.